Potential Return on investment: $4,960.80
The equipment featured in this kit is all made in Canada.
fuji is Canadian made heavy duty equipment made for more expert level tanning or high-volume artists.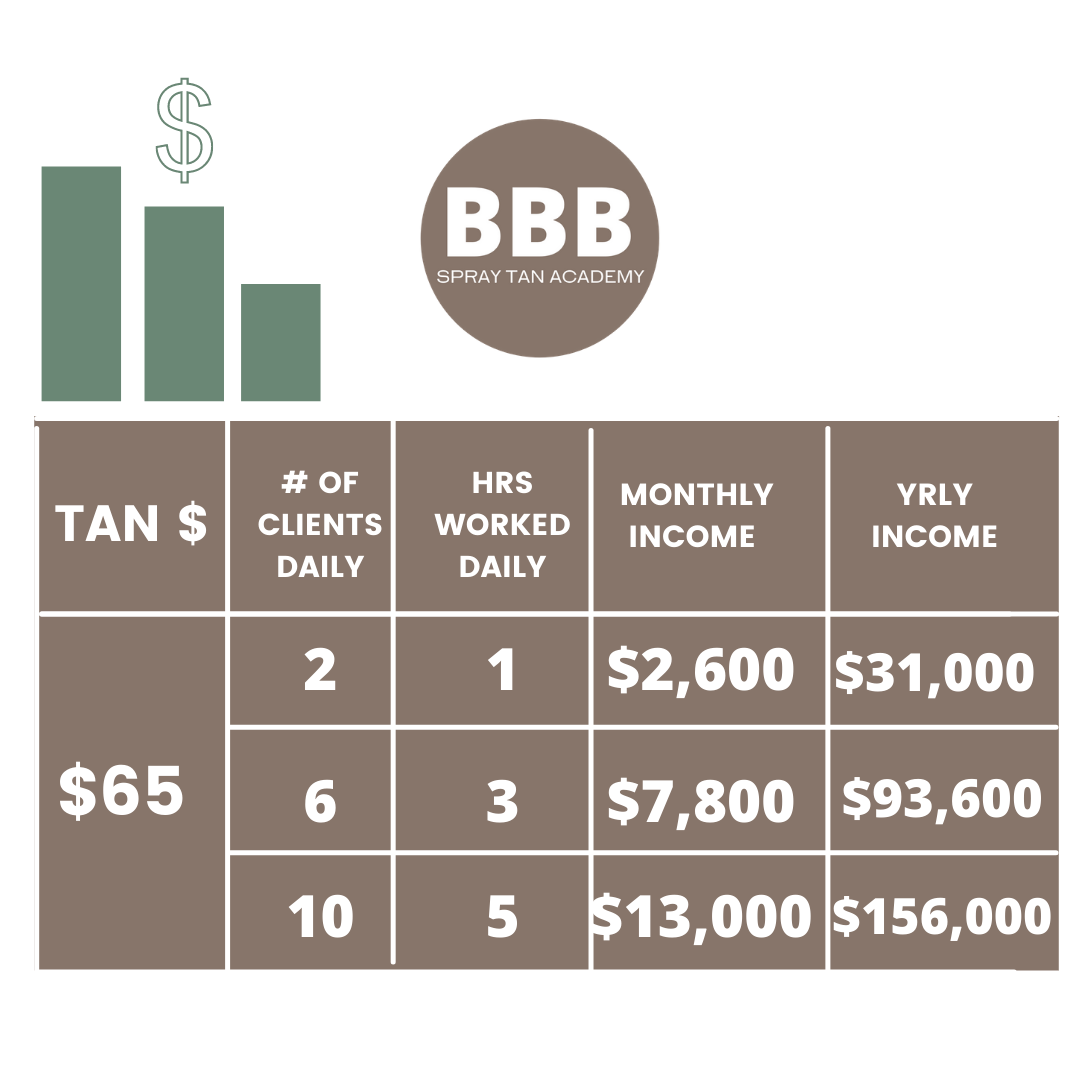 Key Features of the Fuji: MINITAN Platinum compressor & gun

The Fuji 2100 miniTAN System Includes:
- miniTAN™ Turbine
- 7350 bleed valve style Applicator with 250cc Cup (holds 8oz of solution)
- 10ft lightweight whip hose with quick connect
- Built-in gun holder
- User manual
- Wrench and cleaning brush
Fuji 2100 miniTAN System Features:
- Features Fuji Quiet Turbine Technology
-Affordable, easy to use reliable spray tanning system
- All metal applicator with stainless steel fluid components
- Adjustable spray pattern and fluid control knob
- Turbine with washable/replaceable air filters and gun holder slot
- Turbine is light weight and portable, ideal for both the salon or mobile
- Turbine comes installed with a reset safety switch
- Flexible 10 foot whip hose and quick connect fitting
- User manual containing training on Spraying Techniques
- Wrench and cleaning brush
- 24 Month Warranty on complete system
- All systems UL/CSA approved for cosmetic use
Spray TAN 7350 Tan Applicator Features:
- All metal, bottom feed bleed valve trigger gun with stainless steel fluid components
- Adjustable spray pattern and fluid control knob
- Applicator is preset to 4 inches wide at optimal spraying distance of 6 inches
-Applicator can still be used to blow-dry client by gently pulling the trigger to the first stage of travel.
- Intermittent airflow (flowing only when you pull the trigger) for less noticeable "hiss"
- Ergonomic insulated handle that never gets hot
- Includes an 8oz plastic bottom feed cup
INCLUSIONS
- Applicator: Fuji 7350 Tan Applicator

- Nozzle & Needle Make: Stainless Steel
- Cup: 8 oz Bottom Feed
- Motor: 2-stage Bypass
- Turbine: Mini
- Size: 11 x 8.6 x 8.1 in
- Weight: 14.4 lbs
WARRANTY INFORMATION

Fuji is covered by a Two Year (parts only) warranty.
The Tan Applicator is covered by a Two Year Warranty.
For Salon or Mobile Use
The portable and affordable 2100 miniTAN™ system is a combination of the smallest and most powerful system on the market, specifically designed for mobility without compromising quality or professional appearance.
The Fuji 7350 Tan Applicator is a bleed valve style spray gun. This professional grade applicator features a metal body, stainless steel fluid components, adjustable spray pattern knob and adjustable fluid control. Spray pattern is easily set to approximately 4" from the optimum distance of 6" away - the ideal size fan for spray tanning. For a smaller size fan (to spray lower arm and wrist for example) simply turn the pattern control knob. This popular model will help you achieve impeccable results each time.
The miniTAN™ Turbine is powered by a 2-stage motor that is specially balanced for the spray tanning industry. The all metal case features a durable textured finish. This Turbine will cater to all of your spray tanning needs from small touch-ups to lengthy sessions. It comes installed with washable and replaceable air filters and has a reset safety switch. Included with the Turbine is a gun holder bracket to conveniently rest the Applicator when not in use. It provides the strength and durability to meet the demands of a high volume spa or mobile tan business and is designed for both the salon use and the on-the-go technician. The miniTAN™ Turbine means spraying with confidence allowing you to focus more on your business success.
Key Features of the BBB XL Tent
- Portable, Lightweight design for professional use, mobile or home use
- Great for Mobile Spray Tan Technicians
- Folds up neatly and unfolds in seconds
- Comes with a carry bag for easy storage and mobile use
- Creates a professional space for your spray tan area
TAN.AIR Extraction fan is a Professional Clean Air & Extraction Portable Unit with Micro-Whirlwind Technology
The TAN.AIR extraction unit is a portable clean air extraction and ventilation system using micro-whirldwind tehcnology. Perfect for mobile artists, professional salons or in your own home. Powerful enough to extract over-spray solution in any room, the lightweight unit includes a handle and is ideal for small spaces or for mobile use. Protecting the health and safety of both customers and staff.
Key Features:
- Reduces excess over-spray and draws in spray tan solution to ensure the area has clean air.
- Lightweight design for professioanl use, mobile or home use.
- Easy removable filters.
- Suitable for tanning areas with limited space, or mobile spray tanning.
Inclusions:
- 1 x TAN.AIR Portable Extraction Unit
- 1 x TAN.AIR Filter
- 1 x Power Cord
BBB Solution

Our BBB formulation is designed to bring back the simplicity in a spray tan.
We strongly believe that solution customization with various tones & DHA levels leaves the opportunity for artists to make mistakes and provide inconsistent results.
Consistency is the most essential and critical key component to success within the sunless industry for building a loyal clientele. That is why we formulated a hybrid product to develop around the clients skin tone matching each customers skin type. This product provides all DHA levels in a all-in-one formula. Made with 100% natural DHA and water based, this product allows fast drying and weightless results on the skin.
Skin is left feeling smooth and the results are are insanely natural. This product design will save YOU money on inventory while making mobile appointments SIMPLE with less to pack. Less stress, easy to use formula, guaranteed flawless results!
BBB "Signature" Hybrid formula express solution:
- 2 hours - Glow
- 4 hours - Light tan
- 6 hours - Medium tan
- 8 hours - Dark
- 12 hours - Extra dark
1L - 20-25 Tans.
- The tan that won't sweat off
- A super dark brown skin finish
- Salon Professional hybrid Tan Formula
- No orange tones. No fake tan smell
- Vegan friendly, cruelty-free + 100% natural DHA